Install Prefinished Wood Floors
Advanced Hardwood Flooring, Inc, Westbury Long Island NY installs prefinished wood floors. While it might be tempting to install prefinished wood floors yourself, it's not the easiest job for a DIY-er. Each individual wood plank has to lock into the other planks around it with the right tolerance. Too tight and the floors could buckle high humidity causes the planks to swell. Too loose and you have gaps, even more pronounced when dry spells cause the floor planks to shrink. We're not saying any of this is rocket science. You can DIY prefinished wood floors. But it is also a back-breaking job, leaning over and being on your knees all day.
I had one customer tell me recently he chose our company to install his floors because he knew when it was worth doing it himself and when it was smarter to hire a contractor. This client was a former carpenter who flipped a few houses. He knew there was more to installing a prefinished wood floor than most people realized. So he hired us and said at the end of the job that what we did in one day would have taken him three days and he probably wouldn't have done as neat a job. Anyway, here are some photos of a prefinished wood floor we installed recently at a house in Old Westbury, Long Island NY.
If you need to install prefinished wood floors in a home or business on Long Island, please call Joe for a fast, friendly estimate: (516) 322-8630
We work extremely hard to please each and every one of our customers. Currently, we have 73 reviews on Google that are all 5-star ratings. We promise to give you the same meticulous service.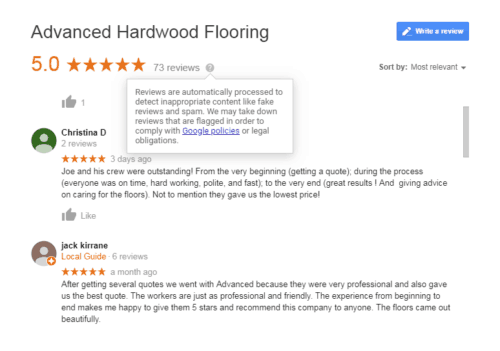 We install prefinished wood floors
Call Joe: 516-322-8630