Hardwood Floor Company, Long Island, NY
Advanced Hardwood Flooring, Inc. is a family-owned and operated hardwood floor company that has been in business for over 60 years.   We repair, refinish, restore and install hardwood floors on Long Island and service all of New York and New Jersey within a 60 miles radius of our hardwood shop in Bellmore, Long Island, NY 
(516) 322-8630



We specialize in bringing old hardwood floors back to life.   There's a reason we've been in business this long.  We know how to restore and service all types of hardwood flooring. 
Refinishing your Hardwood Floor
We are experts at stripping hardwood floors, sanding hardwood floors, refinishing hardwood floors, cleaning and polishing wood floors.  The cost to refinish your hardwood floors by our company is reasonable and based on a price per square foot of floor space.  Often, our cost including materials and labor to refinish your hardwood floors is less than the do-it-yourself cost, once you add up the floor sanding equipment rental and all the other unavoidable costs to refinish wood floors.  If you are considering redoing hardwood floors yourself, please understand the damage you can do when trying to resurface hardwood floors can be catastrophic if you are not experienced.  Hardwood floor sanding equipment can grind divots out of wood floors and leave waves of uneven surfaces if not handled properly.
Click on the link to get a free, fast, online estimate on what it would cost to refinish wood floors.
Oil Based Polyurethane Wood Floor Finishes –  We can refinish your wood floors with the most durable oil-based protective polyurathanes.
Water Based Polyurethane Wood Floor Finishes – Today's water-based finishes for hardwood floors are tough as nails and hold up as well as oil finishes.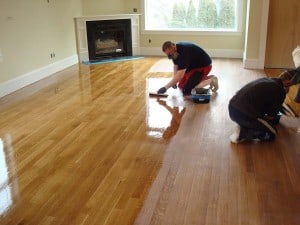 Hardwood Floor Repairs
We repair all types of wood flooring.  If you have broken, cracked, chipped or rotted hard wood floor boards, call us.  We know how to repair wood floors seamlessly,  including color matching the stain so you would never notice the newly repaired wood floor planks from the original wood flooring.
Staining Wood Floors
We stain and seal any type of hard wood floor, from light to dark colors.
Bleaching Wood Floors
We can bleach any dark color wood floor and give it that light, bright look.
Cleaning Hardwood Floors
Check our hardwood floor tips blog to learn how to clean hardwood floors.  If you live on Long Island, Brooklyn, Queens, NYC or NJ and would like your hardwood floors cleaned by our team of professional hardwood floor crasftmen, call (516) 322–8630.
Installation of Hardwood Floors
We install wood laminate flooring, prefinished wood flooring, engineered wood floors, and unfinished hardwood flooring (real "bare" solid wood floor planking).  Our wood floors are installed by some of the most professional and experienced hardwood floor installers on Long Island NY. If you are having trouble installing hardwood floors that you bought at a home store, call us,  we can help with all types of hardwood floor installation.
(516) 322-8630
Advanced Hardwood Flooring company, Inc., Bellmore, Long Island, NY
(516) 322-8630
Refinishing hardwood flooring in Bellmore, Merrick, Seaford, Wantagh, Massapequa, East Meadow, Baldwin, Rockville Center, Freeport, Woodmere, Hewlett, Lynbrook and in almost every town on Long Island New York, NY for the past 60 years.
If you are searching for hardwood flooring contractors in Brooklyn NY, contact my father, Nick Palumbo, of Advanced Hardwood Flooring in Dyker Heights Brooklyn NY.  (917) 217-6115.   Nick refinishes, restores, repairs and installs all types of hardwood flooring in Brooklyn, Queens, Staten Island, NYC, Bronx and parts of New Jersey.